Breakfast Oatmeal Cupcakes To Go
Breakfast Oatmeal Cupcakes – Cook just once, and you get a delicious breakfast for the entire month!
These breakfast oatmeal cupcakes are one of my family's favorite things to eat on rushed mornings. I first made the recipe years ago, and we still love them! My mom often makes a batch for herself and takes them to work in the morning so she can have a nutritious breakfast that's easy to prepare on busy weekdays.
She'll send me text messages with a screenshot, saying "Guess what I had for breakfast again today!"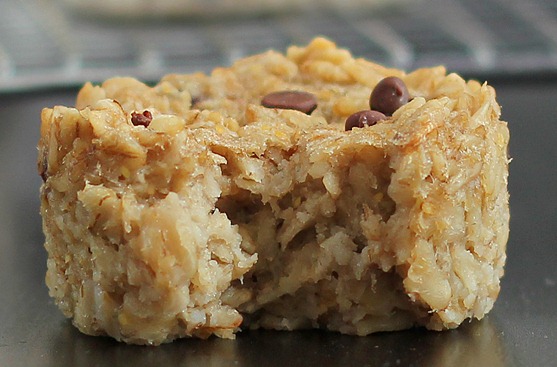 These wholesome breakfast cupcakes are:
Quick to make
Portable and non-messy
Easy to eat at a desk… or pack in a lunchbox!
Just throw a couple into your bag, perhaps along with a container of peanut butter and some fresh fruit, and you're good to go with a balanced breakfast.
My family, my old roommate, and five of my friends are all hooked!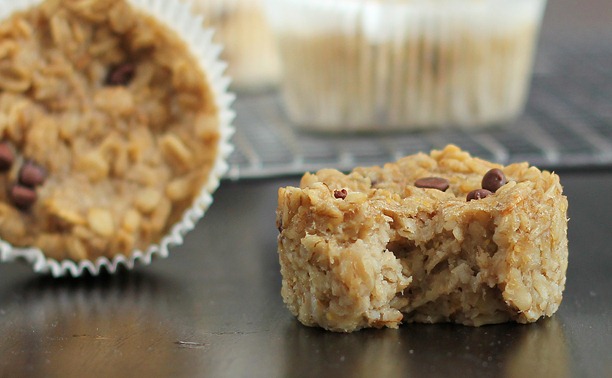 Do you ever skip breakfast? And what do you usually eat on days when sitting down to breakfast just isn't an option?
When I was a teenager, I hated getting up early, so breakfast was often something portable, eaten in the car as I rushed to school. I never understood how my friends who skipped breakfast could make it through class.  The only times I've ever really skipped breakfast were weekends when I was 13 or 14…  because I'd completely sleep through it!
Never skip breakfast again.
Cook once, and you don't have to worry about breakfast for a month!
These customizable "breakfast" baked oatmeal cupcakes are great on-the-go fuel for those days when you have zero time in the morning to prepare a big meal.
And you can easily change up the flavor by choosing different spices and add-ins for endless breakfast cupcake variations!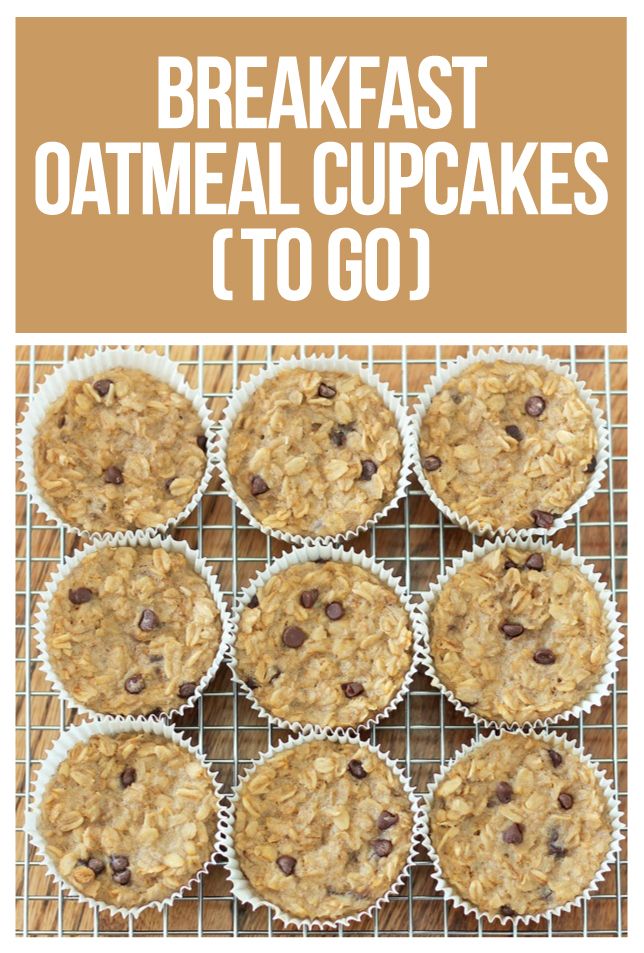 Breakfast Oatmeal Cupcakes To Go
Ingredients
5 cups rolled oats (400g)
2 1/2 cups over-ripe mashed banana (For all substitutions, see nutrition link below) measured after mashing (600g)
1 tsp salt
5 NuNaturals stevia packets OR omit and use 5 tbsp pure maple syrup, agave, or honey instead
optional: 2/3 cup mini chocolate chips
2 2/3 cups water (640g) (If using the liquid-sweetener option, scale water back by 1/3 cup)
1/4 cup plus 1 tbsp coconut or veg oil (45g) (Fat-free option listed in the nutrition link below)
2 1/2 tsp pure vanilla extract
optional add-ins: cinnamon, shredded coconut, chopped walnuts, ground flax or wheat germ, raisins or other dried fruit, etc.
Instructions
Preheat oven to 380 F, and line 24-25 cupcake tins. In a large mixing bowl, combine all dry ingredients and stir very well. In a separate bowl, combine and stir all wet ingredients (including banana). Mix wet into dry, then pour into the cupcake liners and bake 21 minutes. I also like to then broil for 1-2 minutes, but it's optional. (If you let them cool overnight, they'll no longer stick to the liners.) These oatmeal cakes can be eaten right away, or they can be frozen and reheated for an instant breakfast on a busy day.